Retrun to Grace Bible Baptist Church
Click Here to go to Updates Below
A Brief Account of the 2016 Flood and Concerning Our Church Building
By Lucien LeSage
Psalms 93:4 The LORD on high is mightier than the noise of many waters, yea, than the mighty waves of the sea.

The Event
Starting the Friday morning of August 12th, 2016 we experienced a rain event that I have never seen the likes of here in Louisiana all the days of my life. I have lived here 66 years and have experience many hurricanes but never a rain event like this. What happened was that a tropical system set up over land and sat there for several days. If it had just been a local rain event all the massive flooding would not have taken place. The system sat over Louisiana and the Mississippi area north of Baton Rouge and a massive amount of rain fell over this entire area all at the same time. Just in the area where I live we had around two feet of rain in about a day and a half. At my location we experienced a flash flood as the rain descended in such great quantities that the water could not exit our subdivision fast enough. My flooding was minor compared to those who flooded due to rising rivers.
The Problem, Humanly Speaking
There are two rivers that meet at Denham Springs Louisiana. They are the Amite and the Comite Rivers and they drain all of the area north of Baton Rouge up into Mississippi, especially the Amite. So these two rivers had to handle all of this massive amount of water that fell over an entire area at the same time. Several years back money was set aside for a diversion canal that would drain any overflow in the Comite River into the Mississippi River. That never took place and if my memory is correct it was due to having to go through some wetlands. At any rate these two rivers were not able to handle this amount of water. This is not a coastal area, so Global warming and sea level rise has nothing to do with this. We had a 100 year flood event back in 1983 and this flood reached a level of 5 feet greater than that event on the Amite at Denham Springs and is now being treated as a 1000 year flood. This resulted in 90% of the city of Denham Springs being flooded. In the Central City area I believe 20,000 out of 27,000 homes were flooded. Several people lost their lives in this event but actually the loss of life was relatively minimal for such a large event. Many people were rescued by people with boats who just acted without waiting on the Government to act.
God is Sovereign
Paul in the book of Romans tells us "And we know that all things work together for good to them that love God, to them who are the called according to his purpose." (Romans 8:28). Jesus said, "Are not two sparrows sold for a farthing? and one of them shall not fall on the ground without your Father." (Matthew 10:29). How much more that a flood of this magnitude with the loss of life could not happen without our heavenly Father. Somehow this event will work for the good of God's chosen people. We have not experienced anything that others have not experienced. Paul tells us, "There hath no temptation taken you but such as is common to man: but God is faithful, who will not suffer you to be tempted above that ye are able; but will with the temptation also make a way to escape, that ye may be able to bear it." (1st Corinthians 10:13). By His grace His people are able to bear it. It has been exercising and increasing patience in His people, after all "tribulation worketh patience" according to God's word. When I read of Job, I see that the Lord had put a hedge around Job and Satan had no power to touch him without the Lord's permission. Then when the Lord allowed it, the only thing Job could say to his wife was, "naked came I out of my mother's womb, and naked shall I return thither: the LORD gave, and the LORD hath taken away; blessed be the name of the LORD."

The Destruction to Our Church Building
We took on almost 6 feet of water inside the Church building and this was river water and not from flash flooding. The result was not a pretty sight to behold. Every room was pretty much destroyed. All our pews were destroyed. Every piece of furniture was destroyed. The pastor's office and all of his library was destroyed. Our missionary to Thailand had his library stored in the church building and it was completely destroyed. Our pastor had 3 feet of water in his house and so he lost all of it's contents as well. Here are some pictures of the destruction to the building. You can click on any picture for a larger view.

The Contents Being Removed.
The Building after it has been gutted.
Scroll to the Bottom for the Latest Updates
Click on any picture for a larger view
9/12/2016: Sheet rock is to be delivered this week. New windows have been ordered as well.
9/14/2016: We received 30 song books today from Berea Baptist Church in Mantachie, MS.
9/16/2016: The Sheet Rock and insulation was delivered and they will start with the insulation this evening.
9/17/2016: Several men are working on installing the insulation and sheet rock. Keith, Charlie, Gage, Britt, Joey and Wayne Herin from Texas have been working hard.
9/21/2016: Moving along slowly. Here are a few pictures of the meeting house as of this date.
9/21/2016: Our Pastor's home after insulation had been installed by himself and before sheet rock.
9/21/2016: Our Pastor's home after two bedrooms and a bath had sheet rock installed with the help of two of the brothers from our church.
9/24/2016: The entire church building almost finished with new sheet rock. Plus a new front door to the meeting house.
10/2/2016: All the sheet rock is installed and the platform where the pulpit stands has been built. Next step is to float the drywall. We are making decisions on flooring and if we are going back with pews or chairs that connect together. Chairs seems to be about have the price of pews. No new pictures at this time.
10/9/2016: Some new doors installed. Brother Wayne Herin came and taped seams and floated the sanctuary part of the building. The second and third phase of that still needs to be done before and painting can be done. Working on the baptistery as well. Here are a few pictures of some work being done. We are still not decided whether to go back with pews or linking chairs.
10/10/2016: New windows were installed today.
10/23/2016: Worship service in a local park.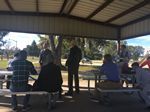 10/23/2016: Information received from Brother Keith Laurence today: The ceiling has been scraped of the popcorn. The windows have had trim installed around them. Some more floating has been done. Only three or four places on the ceiling need to be taped and then texture sprayed. About 90% floating of the rest of the building has been done. After that Brother Wayne Herin will come from Texas and do the final float.
10/30/2016: Our Church met in the building that is being restored. The members sat on chairs that they brought and service was held. Here are a couple pictures.
11/6/2016: Still meeting in a construction area.
11/13/2016: Still meeting in a construction area.
11/20/2016: The walls and most of the ceiling have been primed. Paint sprayer broke and waiting to get it repaired. We also started Sunday School again. Picture of bald headed heretic below.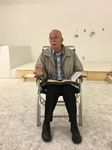 12/2/2016: The walls and ceiling have been painted and we held the start of our revival.
12/26/2016: Brother Kelley Hinson and Brother Wesley Massey from Landmark Sovereign Grace Baptist Church in Fort Worth Texas drove from there pulling a trailer with a new piano for our church building and a few items for our pastor. The piano was a gift from the Jack Whitby Piano Co. in Dallas, Texas. So many have been so gracious in helping us recover from this flood. We are hoping to have our church building restored by the time we have our annual Bible Conference the first week of June.
2/8/2017: Reconstruction continues but has been slow. We have decided to cancel our annual Bible Conference in June as we cannot finish the fellowship hall by then. We have decided to replace the seating with traditional pews. The carpet and flooring has been selected and I believe that will be the next thing installed. Brother Larry Wilson of Northside Baptist in Oakdale is to build a pulpit for us. Here are a few pictures taken Wednesday 2/8/2017. Thanks for all your prayers and support.
2/12/2017: New Lights and Original Fans installed on ceiling.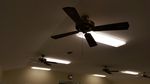 2/15/2017: Vinyl Floor installed. Carpet to follow.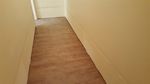 2/18/2017: Our Pastor's home is almost complete. Many thanks to Brother Larry Wilson who is the pastor of Northside Baptist Church in Oakdale Louisiana. He has made many trips to help Brother Jerry restore his home (about 110 miles one-way). He built all the kitchen cabinets in his house. Here are a few pictures of his restored house.
2/22/2017: The Carpet has been installed.
3/1/2017: New Table and Chairs plus new Fan and Lighting for the Children's Sunday School Room.
3/26/2017: More progress. Starting to look a lot nicer. Now have a new PA system and doors are all painted. Waiting on pews.
4/2/2017: Bathroom stalls were installed. These are nice compared to the homemade ones we had before.
4/9/2017: The "Crying Room" for the babies. Has a speaker so the person attending to the baby can hear the preaching. Also notice curtain and the colors for the baptistry.
5/2/2017: We now have new pews.
5/3/2017: Pews fastened down.
5/13/2017: Reconstruction of Fellowship Hall has begun. We are widening it some.
6/3/2017: Walls were constructed for both left and right wings.
6/10/2017: We have constructed the ceiling and roof on the right wing addition to the fellowship hall.
6/17/2017: We have constructed the ceiling and roof on the left wing addition to the fellowship hall.
7/15/2017: We have almost completed the siding on the fellowship hall.
6/11/2018 - It has been almost 2 years since the flood. The Church building has been completed for some time. We are still working on the fellowship hall. The outside is completed and much of the inside is completed. Working on counters and then floor.
9/19/2-18 - After over 2 years since the flood we are finally complete on our reconstruction. The fellowship hall is now complete with a new refrigerator and stove, etc.
Click Here for more pictures in an archived format.
Retrun to Grace Bible Baptist Church