Grace Bible Baptist Church
26080 Wax Road
Denham Springs, LA 70726
---
Denham Springs is located approximately 10 miles east of Baton Rouge, Louisiana off of I-12.
See Google Map to Church.
FACEBOOK LIVE OF CHURCH SERVICE
A Sovereign Grace Baptist Church
We are Sovereign Grace, Premillennial, Missionary, Independent Landmark Baptist.
Church Telephone: 630-485-1977 or 225-664-3557 or 225-803-9710.
GRACE BIBLE BAPTIST CHURCH BIBLE CONFERENCE
MAY 8, 5:30 PM - MAY 10, 12:00 PM
For More Information on Our Church and Times of Service Click Here.
For Our Statement of Faith Click Here.
Email: gbbc.ds@cox.net
"I do not come into this pulpit hoping that perhaps somebody will of his own free will return to Christ. My hope lies in another quarter. I hope that my Master will lay hold of some of them and say, 'You are mine, and you shall be mine. I claim you for myself.' My hope arises from the freeness of grace, and not from the freedom of the will." Charles Haddon Spurgeon
"I cannot endure the sight of God until I see him in Christ; and God cannot bear the sight of me till he sees me in Christ."
C. H. Spurgeon
ROMANIA DONATIONS

Grace Bible Baptist Church RECORDINGS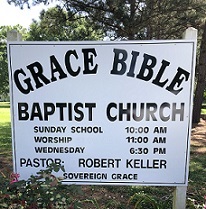 Today is Sunday, 29-Mar-2020 04:18:41 CDT

Your IP Address = 3.235.75.196
Last Modified Saturday, 28-Mar-2020 18:57:08 CDT
---
---
Site Map of All Available Documentation on this Web Server
---